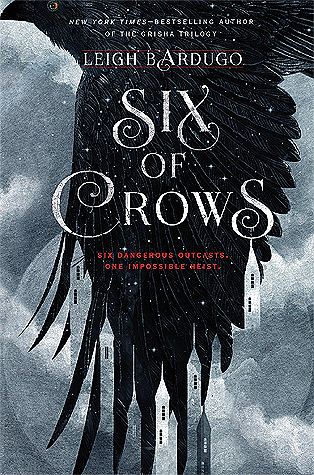 Fantasy Friday is a day to spotlight any fantasy book and for my very first Fantasy Friday, I'd like to spotlight my very first Leigh Bardugo read.
Here's the blurb:
Ketterdam: a bustling hub of international trade where anything can be had for the right price—and no one knows that better than criminal prodigy Kaz Brekker. Kaz is offered a chance at a deadly heist that could make him rich beyond his wildest dreams. But he can't pull it off alone...
A convict with a thirst for revenge.
A sharpshooter who can't walk away from a wager.
A runaway with a privileged past.
A spy known as the Wraith.
A Heartrender using her magic to survive the slums.
A thief with a gift for unlikely escapes.
Kaz's crew are the only ones who might stand between the world and destruction—if they don't kill each other first.
Six of Crows completely blew me out of the water. I loved the description, but I didn't feel like it really prepared me for just how great it was going to be. The writing was fantastic and so was the world-building. The characters felt so real and I loved their interactions with each other. The plot is an interesting one; a love a good story of a heist and this is one of them. I think the one thing that surprised me the most was how little romance there was and wonderful that choice was. I actually like that there's only a hint of romance in the novel. It's refreshing and means more characters are focused on instead of just the two main ones. Six of Crows is a must read and I really can't wait for the next book in the series.