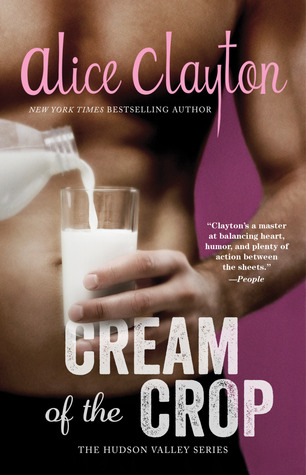 Rating: Three stars
Series: Hudson Valley #2
Date published: July 12, 2016
Genre: Contemporary Romance
Synopsis from Goodreads:
New York Times and USA TODAY bestselling author Alice Clayton brings her trademark blend of funny and sexy to this second contemporary romance in the brand-new Hudson Valley series!
Manhattan's It Girl, Natalie Grayson, has it all: she's a hot exec at a leading advertising firm, known industry-wide for her challenging and edgy campaigns. She's got a large circle of friends, a family that loves her dearly, and her dance card is always full with handsome eligible bachelors. What else could a modern gal-about-town wish for? The answer, of course, is...cheese.
Natalie's favorite part of each week is spending Saturday morning at the Union Square Farmer's Market, where she indulges her love of all things triple cream. Her favorite booth also indulges her love of all things handsome. Oscar Mendoza, owner of the Bailey Falls Creamery and purveyor of the finest artisanal cheeses the Hudson Valley has to offer, is tall, dark, mysterious, and a bit oblivious. Or so she thinks. But that doesn't stop Natalie from fantasizing about the size of his, ahem, milk can.
Romance is churning, passion is burning, and something incredible is rising to the top. Could it be...love?
Cream of the Crop is a cute romance, one that was well thought out but didn't wow me. Perhaps I expected way too much after Nuts - I absolutely loved Roxie and Leo's tale but I didn't feel like Cream of the Crop measured up.
I did devour this book, don't get me wrong. I loved being back in Bailey Falls again. Seeing beloved characters from Nuts back was wonderful. I love Clayton's work. She will forever be an author I will read every single book she writes. There's just a way to her writing that makes it so easy to read. It draws me in and I have trouble putting the book down. Cream of the Crop was no exception.
There's also a strong female lead. Possibly my favorite part of this novel is that Natalie is a size eighteen woman who loves her body and isn't afraid to flaunt it. She has a big personality and she's very confident around everyone except Oscar. I loved how Oscar rendered her speechless at first.
Natalie's love for cheese and dream of one day living on a farm to make cheese make her the perfect match for Oscar the cheese maker. That's clear from the start; it's only a matter of how they're going to come together. This happens when Natalie begins building a campaign for Bailey Falls to attract more tourists. She begins visiting Bailey Falls and naturally her friend Roxie is going to find moments to put Oscar and Natalie together, despite Natalie wanting to avoid Oscar since he turns her into a mute. You know this is just going to lead to romance.
I liked Natalie and Oscar's attraction and chemistry, but I didn't feel like the two got to know each other well enough. I would've liked more scenes between them, getting to know the deeper parts of each other instead of just mostly sex. That's why my rating is only three stars instead of five.