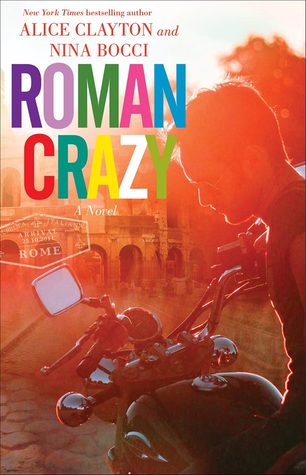 Rating: Four stars
Series: The Broads Abroad #1
Date published: September 13, 2016
Genre: Contemporary Romance
Synopsis from Goodreads:
Avery Bardot steps off the plane in Rome, looking for a fresh start. She's left behind a soon-to-be ex-husband in Boston and plans to spend the summer with her best friend Daisy, licking her wounds—and perhaps a gelato or two. But when her American-expat friend throws her a welcome party on her first night, Avery's thrown for a loop when she sees a man she never thought she'd see again: Italian architect Marcello Bianchi.

Marcello was the man—the one who got away. And now her past is colliding with her present, a present where she should be mourning the loss of her marriage and—hey, that fettuccine is delicious! And so is Marcello…

Slipping easily into the good life of summertime in Rome, Avery spends her days exploring a city that makes art historians swoon, and her nights swooning over her unexpected what was old is new again romance. It's heady, it's fevered, it's wanton, and it's crazy. But could this really be her new life? Or is it just a temporary reprieve before returning to the land of twin-set cardigans and crustless sandwiches?

A celebration of great friendship, passionate romance, and wonderful food, Roman Crazy is a lighthearted story of second chances and living life to the fullest.
If there's one thing I'm absolutely certain of, it's that Alice Clayton has a way with words. She always writes a very good narrative where it feels like you're actually in the mind of the main character, while creating a well-rounded plot filled with a ton of humor. That's what I felt here. The characters in Roman Crazy leaped right off the page and I was hanging onto every word on the page. I became very addicted and couldn't put the novel down.
Roman Crazy follows the life of Avery after she catches her husband cheating on her. She jets off to Rome to live with her best friend and quickly finds out that an old flame also lives in Rome. Only this isn't a tale of the romance of Avery and Marcello. It's also a story of Avery finding herself again and realizing that the life she had with her husband wasn't really for her. For instance, she gave up her career and sketching for him, and so she had to find out where she belongs once again, along with getting back into sketching and creating art.
Possibly my favorite part of Roman Crazy is the setting. I'm a sucker for books where the setting is in a foreign location, especially someplace in Europe. Rome is such a beautiful setting and the descriptions of the food alone will have you wanting to jump on a plane and go there yourself.
Roman Crazy is a great read and I recommend picking it up and reading it yourself. You won't be disappointed.