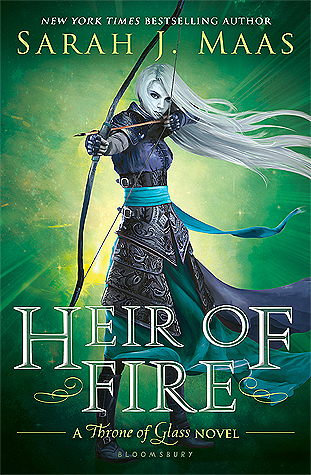 Rating: Five stars
Series: Throne of Glass #3
Date published: September 2, 2014
Genre: Fantasy
Synopsis from Goodreads:
Celaena has survived deadly contests and shattering heartbreak―but at an unspeakable cost. Now, she must travel to a new land to confront her darkest truth . . . a truth about her heritage that could change her life―and her future―forever. Meanwhile, brutal and monstrous forces are gathering on the horizon, intent on enslaving her world. Will Celaena find the strength to not only fight her inner demons, but to take on the evil that is about to be unleashed?
The bestselling series that has captured readers all over the world reaches new heights in this sequel to the New York Times best-selling Crown of Midnight. Packed with heart-pounding action, fierce new characters, and swoon-worthy romance, this third book will enthrall readers from start to finish.
I'm not entirely sure if I can properly describe what a masterpiece Heir of Fire is. Maas did a wonderful job plotting and writing this novel. Heir of Fire follows four different stories at once, making this novel much larger than the ones that came before it. This one isn't just about Celaena. No, it's also about Chaol, Dorian, Adrian, Aedion and Manon. The four different stories it follows are Celaena/Aelin in Wendlyn, Aedion and Chaol working on the rebellion, Dorian falling in love with his healer and dealing with how dangerous his magic is, and newcomer Manon showing us more of what the king is brewing in the Ferian Gap. Despite all these stories taking place in different places and with different people, they flow together so seamlessly that you never question it. That in itself is really impressive.
Possibly my favorite part of Heir of Fire was the way emotions of the characters were dealt with. This is a third person POV book; those don't generally tend to delve too deeply into what the characters are feeling, but Maas pulled that off flawlessly. I especially liked the beginning, when Celaena had just given up. She was grieving over the loss of Nehemia and Chaol, all her hope lost, and she had to find a reason to fight again. Of course, that wasn't an easy task and took a good portion of the book for that depression to fade, but that's okay, because it was so believably. I really felt for Celaena in those moments, thanks to Maas's wonderful writing. A part of me just wants to go up to her and thank her for writing the Throne of Glass series. Not many authors would have been able to pull of all the things she has in these novels.
Heir of Fire also has many new characters, each more lovely than the last. Really, I loved them all, which is such a rare thing in a book. There's not a character in these series that I dislike because they're all written well. This novel introduces Sorscha, the quiet healer Dorian takes an interest in. Their story was really great because it was nice seeing Dorian move on from Celaena and have someone to help him conceal his magic. There was also Aedion, Celaena's cousin and general in the king's army. It's not long before we find out he's secretly working with the rebels to build a following for Aelin's return.
A huge part of this novel is Manon Blackbeak, the second witch we're introduced to in this series but also my favorite witch. Manon is a lot similar to Celaena in terms of personality. They're both tough and hardened, but Manon is even more so. She was taught from a very young age that she shouldn't feel anything at all; the focus is on being the best coven there is. So Manon leads her Thirteen ruthlessly, and they're the greatest coven shown to us in the novel. Many covens of witches come together in the Ferian Gap under the king. The king gives them wyverns to train so the witches can be his aerial strike team when the time comes. The wyverns are supposed to be ruthless killing machines, but Manon soon notices that some of them are far more intelligent than that, including her own wyvern Abraxos. The tale of how Manon comes together with Abraxos is very heartwarming, with a mix of heartbreaking thrown in there too. It's nice seeing Manon's emotions breaking through because of Abraxos, along with how wise she is. She notices things none of the other witches do.
Last but certainly not least, there's Rowan Whitethorn. Rowan is my favorite character in this series so I loved getting to this book since I got to meet him again. Rowan is charged by Queen Maeve to bring Celaena to her and they strike a bargain. Celaena will train with Rowan, learn to use her powers and demonstrate them to Maeve, and in turn Maeve will give her information about the Wyrdkeys. Rowan and Celaena go to Mistward to live with the Demi-Fae while they work on Celaena's magic. It's a long journey, since Celaena is so afraid of her powers, but it's a great one. I loved their training scenes and I loved watching as they got to be more familiar with each other. They grow such a bond that it completely blows every other literary couple out of the water for me, and they're not even a couple.Plus as Celaena works more with her powers, she begins to accept who she really is. She learns to embrace the name Aelin and finds the fire inside her to motivate her to do what's right.
Heir of Fire is a great installment in the Throne of Glass series. The story is more epic than past books, and that's what makes it so great. In this novel, it fully embraces the fantasy genre. It reminds me of Lord of the Rings but better, while promising much more greatness to come.