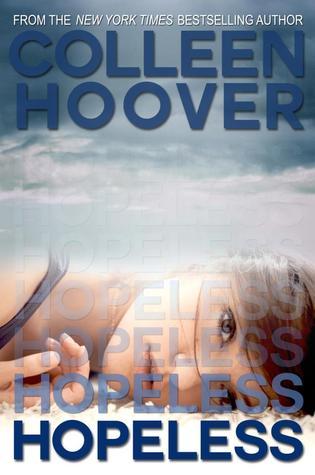 Rating: 4 stars
Date published: December 19, 2012
Genre: Contemporary Romance
Synopsis from Goodreads:
Sometimes discovering the truth can leave you more hopeless than believing the lies…
That's what seventeen-year-old Sky realizes after she meets Dean Holder. A guy with a reputation that rivals her own and an uncanny ability to invoke feelings in her she's never had before. He terrifies her and captivates her all in the span of just one encounter, and something about the way he makes her feel sparks buried memories from a past that she wishes could just stay buried.
Sky struggles to keep him at a distance knowing he's nothing but trouble, but Holder insists on learning everything about her. After finally caving to his unwavering pursuit, Sky soon finds that Holder isn't at all who he's been claiming to be. When the secrets he's been keeping are finally revealed, every single facet of Sky's life will change forever.
I first read Hopeless way back in 2013, way back when I had just discovered Colleen Hoover's novels, so when my best friend
Mirela
asked me to do a read through of it with her, I jumped at the opportunity to reread it. What was shocking to me was that I actually enjoyed Hopeless a lot more the second time. Yes, I liked Hopeless originally, but I read it right after Slammed and I feel like that affected my original thoughts on Hopeless from three years ago. Hopeless doesn't get the same reaction out of me as Slammed does, but it's still a fantastic book that I'll probably read a third time in the future.
Hoover has a way with words that just makes you completely addicted to her writing. You can't help but keep flipping through the pages. Even when you know what happens, you can't stop reading. It's like an addiction. Mirela and I tried to limit ourselves to just five chapters a day but there were several days we just couldn't do it. We had to have more.
Sky and Holder are two of my favorite CoHo characters ever. Sky is easy to relate to even though I don't have much in common with her and it's really impossible not to like Holder. He's a fine hero for our heroine, the rock she needs during the whirlwind of the plot. Their attraction is so easy and not at all forced. I loved their quiet moments the best. Just baking cookies and reading books? These are things that feel incredibly real and help establish a real bond between them. It's a great way of getting to know each other without too much instalove.
Hopeless is more than a story of romantic love, though. I loved the other supporting characters. I really wish we could've seen more of Six and Breckin. They were very good friends to Sky. I also loved Karen for reasons I can't say without flat out spoiling a huge plot device. The plot was fast paced; there was never a dull moment. It was filled with intrigue and heartbreak.
Hopeless is well worth the first, second, or millionth read.